Dying Light is an upcoming zombie game from the same team who brought you Dead Island and Dead Island: Riptide. Dying Light is an action survival RPG, and offers a first person perspective. You must journey through a vast world full of peril and dangers. Parkour is your main means of transportation, and you'll have to think FAST and on your feet, considering ravenous hordes of zombie-like creatures will be chasing you, just dying to consume your flesh and feast on your organs. By day, you travel the town, searching for survivors and supplies, undertaking dangerous missions for the betterment of the last vestiges of society. By night, you best tie your running shoes a bit tighter, because the zombies are far more active by night and seem to grow an even bigger appetite after the sun goes down!
Dying Light will be available in January, and Steam just put up the Dying Light Steam Page, revealing all the goodies you'll be offered if you pre-order from them now! When pre-ordering from Steam, you will get the following add-ons to your Dying Light experience:
Multiplayer Mode: Be the Zombie!
There are so many zombie games out there, and yet how many allow you to take control of the undead? The morbid side in all of us wishes for a zombie game where you can take control of a zombie, snag helpless victims and start feasting on their innards. Well if you pre-order Dying Light from Steam, you'll get that chance! BE THE ZOMBIE in this exclusive multiplayer mode!
Exclusive Weapon: Punk Queen
The Punk Queen is an exclusive weapon you'll get from pre-ordering from the Steam network. Down zombies with style using this deadly crowbar powered by every possible upgrade, all in one handy weapon!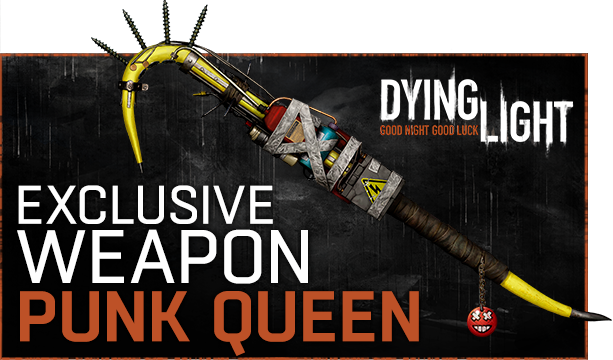 Pre-ordering of the game on Steam will land you these two juicy exclusives. Needless to say, you'll be conducting some happy hunting with the Punk Queen, but I wager most of you will prefer hunting humans as a zombie!